Buying Food Grade Ethanol in the United States
Obtaining food grade ethanol in the United States, an essential ingredient for various applications is a process governed by a complex web of regulations and restrictions that vary from state to state. At Simple Solvents, we understand the difficulties buyers face when trying to secure industrial alcohol in the United States, and we're here to provide valuable guidance. In this comprehensive guide, we'll delve into the intricacies of purchasing food-grade ethanol in different states, focusing on Washington's unique regulations, permit requirements, and more. We've developed a Shipping Map to assist you in understanding the complexities, and we'll discuss the role of Simple Solvents in simplifying this process.
Understanding the Shipping Map: Your Guide to Ethanol Procurement
Before diving into the specifics of purchasing food grade ethanol in the United States, let's first explore the Shipping Map developed by Simple Solvents. This map provides an overview of restrictions, regulations, and permit requirements for shipping ethyl alcohol (ethanol) across the United States. It's a valuable resource to help you navigate the labyrinth of rules that can impact your order.
Teal: In states marked in green on the map, no permits are required, and there are no restrictions on shipping ethanol. You can place your order with ease, and no further steps are necessary.
Blue: States in yellow require a permit before you can make a purchase. Additional resources, including comprehensive guides and PDF forms for permits, are available to help you through this process.
Dark Blue: In states marked in grey, the importation of food-grade alcohol/ethanol is prohibited, meaning that you cannot order from Simple Solvents at this time. Regulations may change, so it's advisable to check back periodically for updates.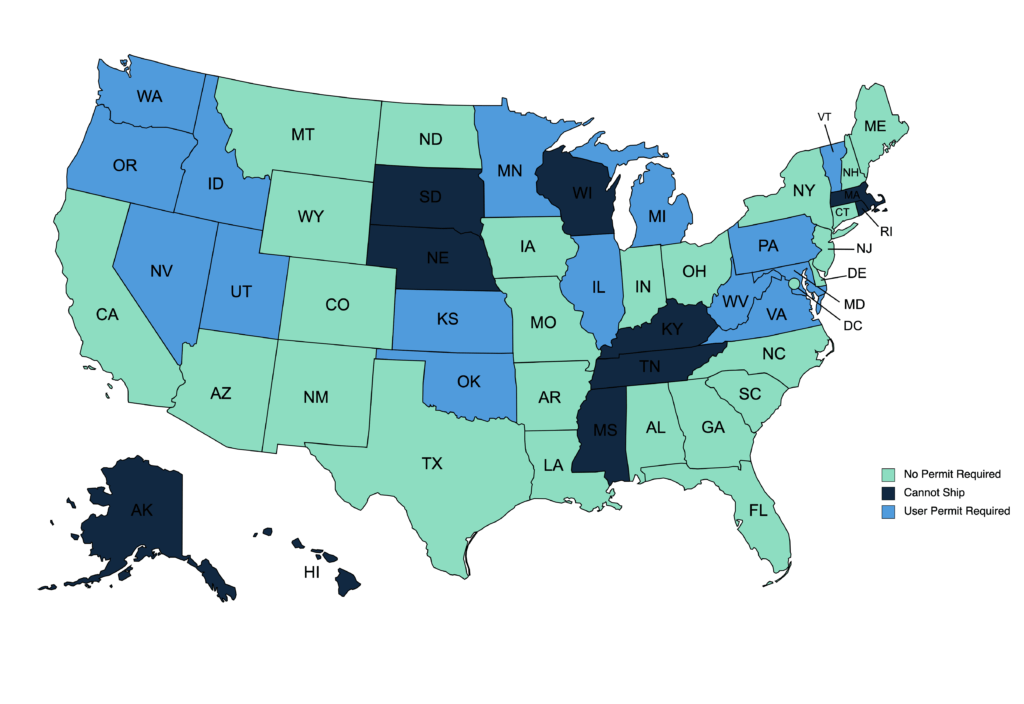 Food Grade Ethanol Permit Requirements by State
While this guide aims to provide a foundational understanding of state regulations, it's essential to be aware that additional local regulations or restrictions may apply to your specific destination address. Local jurisdictions, including counties, cities, boroughs, townships, and more, may have their own unique rules that could affect your ability to receive a shipment of food grade alcohol in the United States. As a result, it is highly recommended that all customers conduct thorough research on the regulations in their local area before placing an order. Additional forms can be found here – Click here!
Navigating Terminology: The Challenge of Local Regulations
Understanding the language used in regulations is another challenge when researching food-grade ethanol procurement. Different states and localities may use various terms interchangeably to refer to food grade ethanol in the United States. While some regions may call it "food-grade ethanol," others might use alternative terms, such as:
Nonvolatile solvent
Industrial alcohol
Non-denatured/nondenatured/undenatured ethyl alcohol
Alcohol used for manufacturing
To find the correct information, it's crucial to familiarize yourself with the preferred terminology of your locality while researching regulations for shipping and receiving ethanol.
Help Us Keep This Resource Accurate
We are committed to providing you with accurate and up-to-date information to navigate the complexities of ethanol procurement. If you come across any incorrect or out-of-date information on this page, please don't hesitate to contact us. Your feedback will contribute to making this resource even more effective for buyers seeking ethanol across the United States.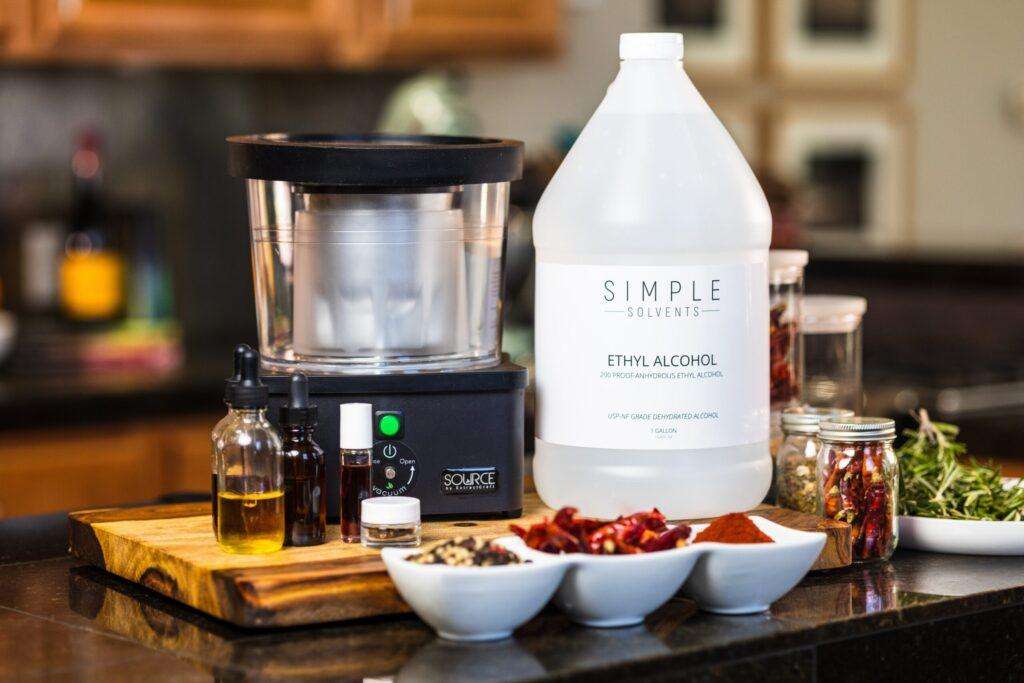 Shipping Availability by State:
Now, let's explore the availability of shipping food-grade ethanol in different states. We'll provide insights into permit requirements and other relevant details:
Teal – Good to Go!
In these states, you can order food-grade ethanol with ease:
Permit Required: See More Details
In these states, a permit is necessary for ethanol purchase:
Not Available to Ship: Check Back Later
In the following states and territories, we are currently unable to offer shipping. Please check back for updates:
Alaska
Delaware
Hawaii
Kentucky
Massachusetts
Mississippi
Nebraska
Puerto Rico
Rhode Island
South Dakota
Tennessee
Wisconsin
International Destinations
At this time, we do not offer international shipments.