Simplifying How to Buy Food Grade Ethanol in Iowa
Buying food grade ethanol in Iowa, in today's interconnected world, is essential for various industrial, commercial, and scientific purposes and has been made considerably more accessible through online platforms. Yet, the seemingly simple process of buying food-grade ethanol, a vital substance in various industries, can quickly turn into a labyrinth of regulations and complexities. Each state in the United States has its unique rules and restrictions, adding layers of intricacy to an already intricate process.
This blog delves into the particular challenges of buying food-grade ethanol online in the state of Iowa. We'll explore the intricacies of Iowa's regulations and exemptions, understand the requirements for purchasing this industrial alcohol, and introduce Simple Solvents as the ultimate solution to streamline your procurement process. In the following sections, we'll provide comprehensive guidance, taking you step by step through this intricate process.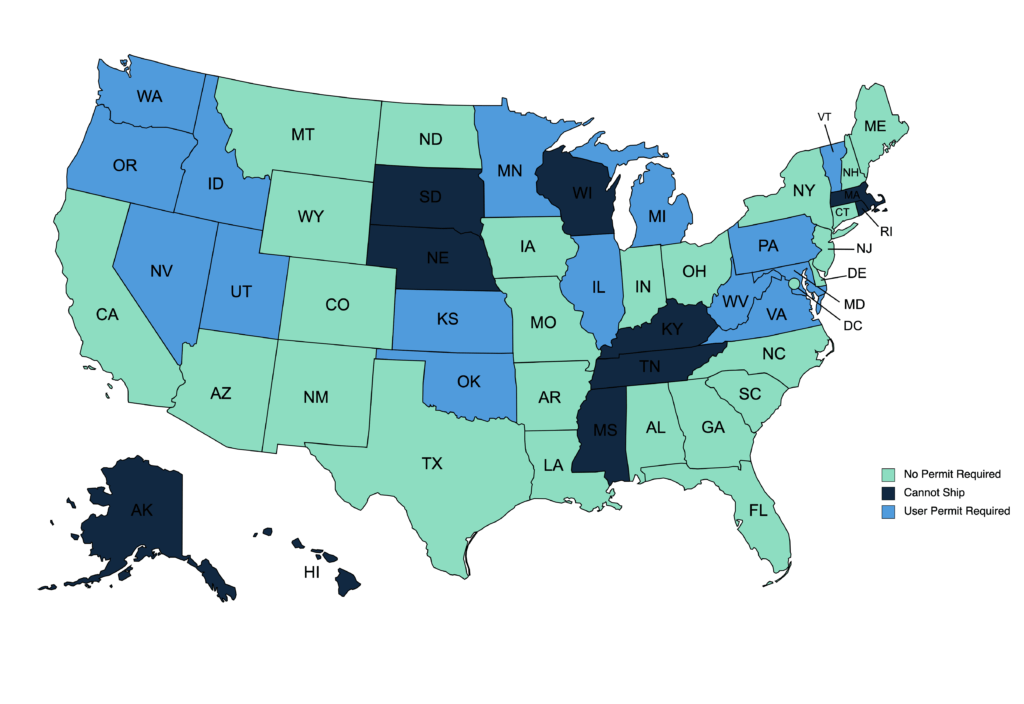 Navigating the Regulatory Landscape: Iowa's Rules and Exemptions
Before diving into the world of online food grade ethanol in Iowa, it's essential to familiarize yourself with Iowa's specific regulations and exemptions concerning this industrial alcohol. Fortunately, Iowa's stance is relatively favorable. The state's laws permit the purchase of 190 proof and 200 proof nondenatured ethanol, specifically for extraction and processing operations, without the need for a special permit or license.
This means that businesses can legally procure food grade ethanol in Iowa without the hassle of navigating a complex web of permits and licenses, provided they meet the state's requirements. However, the key requirement is that you must provide proof of an appropriate business license to the supplier, which demonstrates your intended use aligns with Iowa's regulations. This business license serves as your ticket to a seamless procurement process, and we'll delve deeper into this requirement as we explore the process of purchasing food grade ethanol in Iowa through Simple Solvents.
Introducing Simple Solvents: Your Ethanol Procurement Partner in Iowa
At Simple Solvents, we recognize the challenges and complexities that come with buying food grade ethanol in Iowa. Our mission is to simplify the process, ensuring that you can access high-quality food grade ethanol in Iowa without the hassle of dealing with intricate regulations and confusing permit applications. We've streamlined the process to make it as straightforward as possible, enabling you to focus on your specific industrial, scientific, or commercial needs rather than navigating regulatory hurdles.
Step 1: Providing Proof of Business License
The first step in the process of procuring food grade ethanol in Iowa is to provide proof of an appropriate business license. This license serves as evidence that your intended use of the ethanol aligns with Iowa's regulations and exemptions. It's a crucial requirement to initiate the ordering process with Simple Solvents. To submit your business license, please send it to [email protected].
We understand that this step may initially seem daunting, but it's the foundation of a hassle-free procurement process. Once you've submitted the necessary documentation, you're well on your way to accessing the food-grade ethanol you need.
Step 2: Exploring SimpleSolvents.com
Once your business license is on file, you can explore our extensive range of pure food grade ethanol in Iowa on SimpleSolvents.com. Our online store offers a diverse selection of high-quality ethanol products, ensuring that you can find the specific grade and quantity that aligns with your requirements.
One of the advantages of partnering with Simple Solvents is our commitment to a seamless and timely purchasing process. Most orders typically ship out between one to three business days from the purchase date, ensuring that you receive your ethanol promptly. We understand the importance of efficiency in your operations, and our streamlined shipping process reflects that commitment.
Step 3: Providing Payment and Shipping Information
Once you've selected the products that meet your specific needs, proceed to checkout. Here, you'll enter your payment information, ensuring a secure and straightforward transaction. Additionally, you'll confirm your shipping address, ensuring that your order reaches the intended destination without any hitches.
Step 4: Planning for Delivery
It's essential to note that deliveries in Iowa require an adult signature upon receipt. This requirement ensures that your order is received by the appropriate individual and is in compliance with state regulations.
Shipping Time to Iowa:
Our FedEx Ground transit time has been modified to make your experience as smooth as possible. Your order now typically arrives in Iowa within three to five business days from our warehouse in Colorado. It's worth noting that Saturdays and Sundays may count towards this total, depending on the origin of your shipment.
Throughout your order's journey, FedEx will provide tracking updates, including an update the day before your expected delivery. This transparency ensures that you can monitor the real-time status of your order, giving you peace of mind throughout the process.
Conclusion: Your Legal and Hassle-Free Ethanol Procurement Solution
The process of buying food grade ethanol in Iowa is well-defined, with specific regulations and exemptions that favor businesses and organizations requiring this vital industrial alcohol. The key to a seamless procurement process is to provide proof of an appropriate business license, demonstrating that your intended use aligns with Iowa's regulations.
With Simple Solvents, you have a trusted partner that simplifies the process, offering a wide selection of high-quality food-grade ethanol products. Our streamlined ordering and shipping process ensures that you can access the ethanol you need promptly, without the headache of complex regulations and permit applications.
By following the straightforward steps outlined in this guide and providing the necessary documentation, you can confidently and legally source food-grade ethanol in Iowa. We understand that your time and resources are valuable, and our commitment is to provide a simplified and efficient procurement experience.
If you have any additional questions or require further assistance, please don't hesitate to reach out. Simple Solvents is here to support your ethanol procurement needs and ensure that your operations run smoothly and efficiently. Your satisfaction and compliance are our top priorities, and we're here to make your ethanol procurement in Iowa as simple as possible.