How to Buy Food Grade Ethanol in Wyoming: A Comprehensive Guide
How to buy food grade ethanol in Wyoming, the process is designed to be straightforward, eliminating the need for additional permits or licenses. In this comprehensive guide, we will navigate through the steps involved in legally purchasing this essential product online. SimpleSolvents.com is your trusted partner in ensuring a hassle-free experience, offering an array of pure food-grade ethanol with prompt shipping to both residential and business addresses across Wyoming.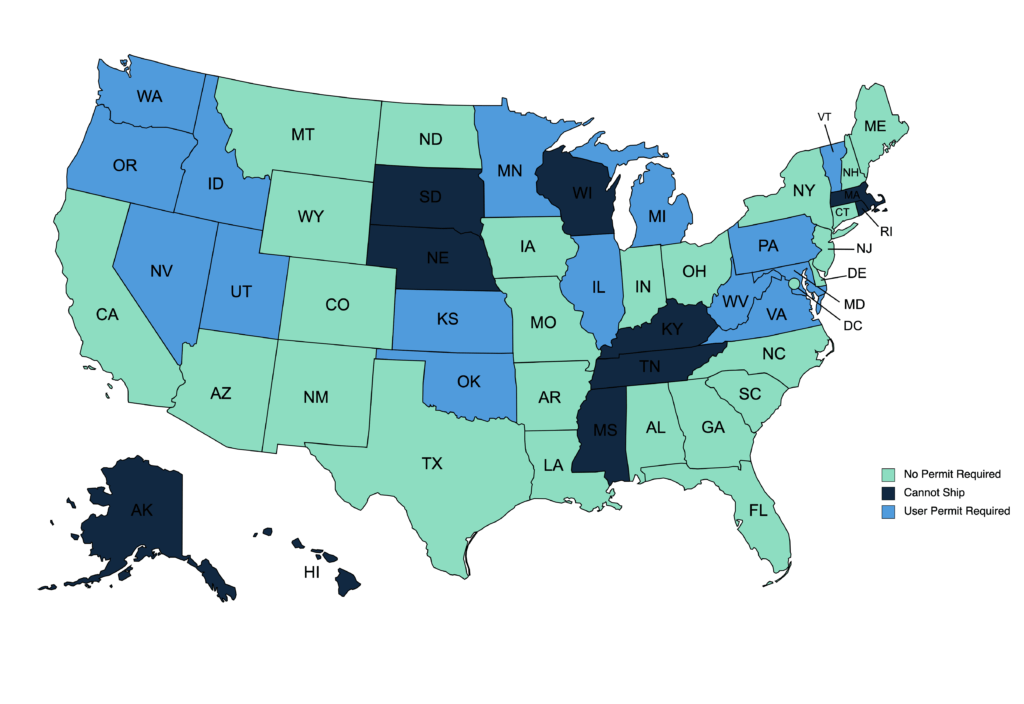 Understanding Wyoming's Rules and Exemptions:
Before diving into the purchasing process, it's essential to familiarize yourself with Wyoming's regulations and exemptions concerning food grade ethanol in Wyoming. The regulations for purchasing highproof alcohol vary from state to state. Wyoming, with its vast landscapes and distinctive regulatory environment, allows the purchase of food-grade ethanol without the need for additional bureaucratic hurdles.
Exploring SimpleSolvents.com:
For those in search of pure food grade ethanol in Wyoming, look no further than SimpleSolvents.com. Our online store offers an impressive selection of options, available for immediate fulfillment. One of our key advantages is the quick turnaround time; orders typically ship out between one and three business days, ensuring that you receive your essential supplies promptly.
Seamless Checkout Process:
Upon selecting the desired products, proceed to the checkout where you'll provide payment and shipping information. At SimpleSolvents.com, we prioritize transparency. Expect tracking details that keep you informed of your order's progress in real-time, providing peace of mind throughout the shipping process.
Delivery Planning in Wyoming:
Wyoming mandates adult signatures upon receipt of packages. To ensure a smooth delivery, plan accordingly and have someone available to accept and sign for the package upon arrival. This precaution is in line with the state's commitment to responsible handling of potentially hazardous materials.
Adjusted Shipping Times to Wyoming:
Our commitment to efficiency is reflected in the adjusted shipping times. FedEx Ground now facilitates deliveries from our Colorado warehouse to Wyoming within three to five business days from the dispatch date. Take note that Saturdays and Sundays may be counted as business days in specific instances. Regular tracking updates will keep you informed about your shipment's status, including an update the day before the expected delivery.
Wyoming Permits and Licenses:
One of the most appealing aspects of purchasing food grade ethanol in Wyoming is the absence of the need for permits or licenses. Wyoming's legal framework expressly permits the purchase of nondenatured 190-proof and 200-proof ethanol for manufacturing purposes, such as non-alcoholic beverage preparations, extractions, and various processing operations. This makes our ethanol an ideal choice for a wide range of applications.
The Need for Food Grade Ethanol in Wyoming:
Now that we have outlined the process of procuring food grade ethanol in Wyoming, let's explore the diverse and crucial applications that make this product a necessity in the state.
1. Industrial Alcohol in Wyoming:
Food grade ethanol in Wyoming is not only an essential component in the food and beverage industry but also plays a significant role in various industrial processes in Wyoming. Many industries rely on industrial alcohol for cleaning, sanitization, and as a solvent for extraction purposes. The high purity and quality of industrial alcohol make it a reliable choice for these applications.
2. Botanical Extraction:
The demand for botanical extracts in Wyoming is on the rise, particularly for uses in supplements, cosmetics, and essential oils. Food-grade ethanol is a preferred solvent for botanical extraction due to its ability to extract essential compounds effectively and efficiently. The absence of denaturants in food-grade ethanol ensures that the extracted compounds remain pure and uncontaminated.
3. Laboratory and Research:
Wyoming's educational and research institutions frequently require high-quality solvents for laboratory and research purposes. Food-grade ethanol is a preferred choice in these settings, as it meets the stringent purity requirements necessary for accurate research and analysis.
4. Pharmaceutical Manufacturing:
The pharmaceutical industry in Wyoming relies on food-grade ethanol for the production of medications, particularly in the formulation of liquid suspensions and tinctures. The quality and purity of food-grade ethanol are critical in ensuring the safety and effectiveness of these medications.
5. Sustainable and Eco-Friendly Practices:
As the world moves towards more sustainable and environmentally friendly practices, food-grade ethanol is gaining prominence as a green solvent. Wyoming businesses and industries are increasingly adopting eco-friendly practices, and food-grade ethanol aligns with these sustainability goals.
Benefits of Choosing SimpleSolvents.com:
Simple Solvents is committed to providing the highest quality food-grade ethanol in Wyoming. Here are some of the key benefits of choosing SimpleSolvents.com for your ethanol needs:
1. High Purity:
We take pride in offering pure food-grade ethanol that meets the strictest quality standards. Our ethanol is free from denaturants and contaminants, making it ideal for a wide range of applications, from botanical extraction to laboratory use.
2. Quick Turnaround:
We understand that time is of the essence. That's why we aim to ship your orders promptly. With shipping times of one to three business days, you can rely on us to deliver your ethanol in a timely manner.
3. Transparent and Secure Checkout:
Our online platform ensures a seamless and secure checkout process. We prioritize transparency, so you'll always have access to tracking information and order updates.
4. Regulatory Compliance:
We are well-versed in the regulations governing the purchase and shipment of food-grade ethanol in Wyoming. By choosing SimpleSolvents.com, you can be confident that your purchase is in compliance with state laws.
We are here for you…
Acquiring food grade ethanol in Wyoming need not be a daunting task. With the right information and a reliable supplier like Simple Solvents, the process becomes straightforward and hassle-free. Wyoming's diverse industries and applications rely on the purity and quality of food-grade ethanol, making it a valuable commodity in the state.
At SimpleSolvents.com, we are dedicated to ensuring that our customers have access to the highest-quality food grade ethanol in Wyoming for their specific needs. Whether you require ethanol for botanical extraction, research, pharmaceutical manufacturing, or any other purpose, we are here to provide a seamless and compliant purchasing process.
Our commitment to customer satisfaction and regulatory compliance sets us apart as your trusted partner in Wyoming's ethanol procurement journey. Should you have any questions or need further assistance, please do not hesitate to reach out to our customer support. SimpleSolvents.com is here to make your ethanol procurement experience as smooth as possible, ensuring that you have access to the essential products you need for your diverse applications.