How to Buy Food Grade Ethanol in North Dakota: A Guide with Simple Solvents
In the realm of e-commerce and online purchases, obtaining food grade ethanol in North Dakota should be a seamless process. However, when it comes to acquiring food grade ethanol in North Dakota, the reality can be far more complex. Every state in the U.S. boasts its unique set of rules and regulations, adding layers of intricacy to what should be a straightforward endeavor. This blog is dedicated to unraveling the intricacies of buying food grade ethanol in North Dakota online, a state that has its particular challenges. But rest assured, Simple Solvents is here to be your guiding light through this regulatory maze.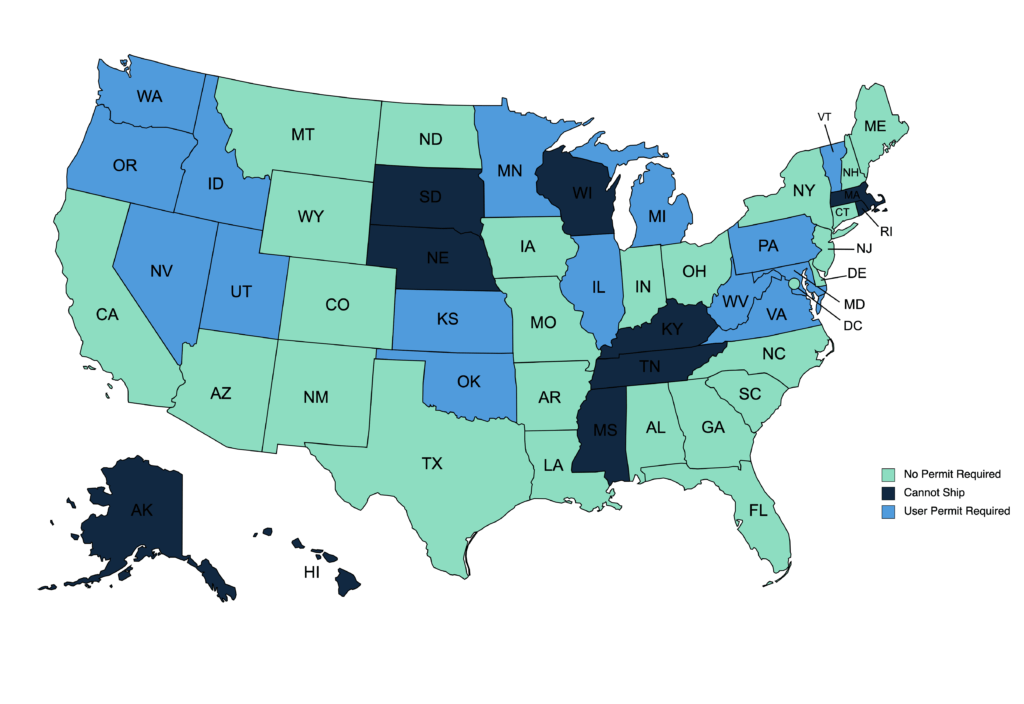 Food Grade Ethanol in North Dakota: Simplified
In the vast expanse of North Dakota, purchasing food-grade ethanol is a straightforward process that adheres to state laws, and it doesn't require any additional permits or licenses. Whether you need it for personal or professional use, the steps below will guide you, with FedEx Ground delivering directly to addresses across the state.
Steps for Acquiring Food Grade Ethanol in North Dakota:
Research North Dakota Rules and Exemptions: Before you make your purchase, it's crucial to become well-informed about North Dakota's regulations and exemptions regarding food-grade ethanol. Ensuring compliance with these rules is the first step in simplifying the process.
Visit SimpleSolvents.com: Your journey to acquiring food-grade ethanol begins at SimpleSolvents.com. Our online store is your gateway to a wide range of pure food-grade ethanol solutions. What's more, orders typically ship out within 1-3 days, ensuring a swift and efficient experience.
Provide Payment and Shipping Information: Once you've chosen the products that meet your requirements, proceed to the checkout. Here, you can enter your payment information and confirm your shipping address. We understand the importance of real-time order status updates, which is why we provide tracking details, allowing you to stay informed about the progress of your purchase.
Plan for Delivery: When shipping packages to North Dakota, it's important to note that an adult signature is required upon delivery. To ensure a seamless experience, make the necessary arrangements so that someone is available to receive the delivery.
Shipping Time to North Dakota:
The shipping time for your ethanol order via FedEx Ground has been adjusted to reflect the most accurate estimate. It now takes between 4-6 business days for your shipment to reach North Dakota from our warehouse in Colorado. Depending on your location, business days may include Saturdays and Sundays when calculating the delivery time. Rest assured that FedEx will keep you informed throughout the process, providing tracking updates and a notification on the day before the expected delivery.
Permits in North Dakota:
Here's the good news: When purchasing and shipping food grade ethanol to North Dakota, you won't need any additional permits or licenses. The state allows for the purchase and use of nondenatured 190-proof and 200-proof nondenatured ethanol for specific purposes, with the notable exception of beverage consumption. This legislative framework clearly permits such purchases for uses like extraction and processing operations.
Knowledge Base Blog of SimpleSolvents.com: Your Source for Information
For answers to your queries and further insights into the world of food grade ethanol in Northda Dakota, be sure to visit the Knowledge Base Blog on SimpleSolvents.com. Here, you can delve into a wealth of information regarding the safety of food-grade ethanol for human consumption, the distinctions between nondenatured and denatured ethanol, and even a comparison between Culinary Solvent and Everclear. Discover the myriad applications of food-grade ethanol and gain a comprehensive understanding of this versatile substance.
In conclusion, procuring food grade ethanol in North Dakota is a straightforward and legally compliant process that aligns with state laws. SimpleSolvents.com stands as your trusted source for premium food grade ethanol products, offering competitive pricing and a dedicated team ready to assist you every step of the way. Your satisfaction and safety are our utmost priorities, and we're here to ensure your ethanol procurement is as hassle-free as possible. So, whether you're an expert in the field or a newcomer seeking information and products, Simple Solvents is your partner in the world of food-grade ethanol.