A Comprehensive Guide for Buying Food Grade Ethanol in Vermont
In the world of chemical processing, laboratories, and industrial applications, the demand for food grade ethanol in Vermont is a common requirement. However, acquiring this essential substance is far from a straightforward process, given the intricate web of rules and regulations that vary from state to state. Vermont, in particular, presents its own unique set of challenges when it comes to obtaining food-grade ethanol. In this comprehensive guide, we'll delve into the complexities of buying food grade ethanol in Vermont, emphasizing the importance of complying with state regulations and highlighting Simple Solvents as the solution to your procurement dilemmas.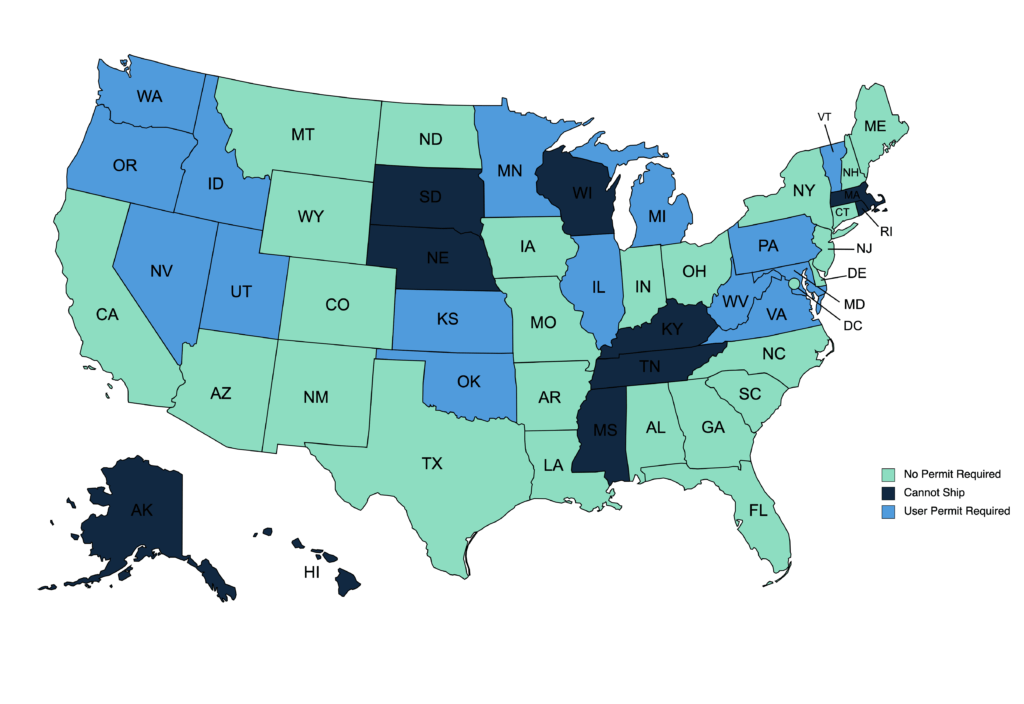 Step One – Food Grade Ethanol in Vermont: Rules and Regulations
Before embarking on your journey to acquire food grade ethanol in Vermont, it's imperative to acquaint yourself with the state's specific rules and regulations governing this substance. The Department of Liquor and Lottery Division of Liquor Control is the governing body overseeing these regulations in Vermont. You can reach them at 13 Green Mountain Drive, Montpelier, Vermont 05602, or contact them via phone at 802-828-2339 or 800-832-23339. For additional information, you can visit their website here.
Understanding these regulations is your first step toward a hassle-free and compliant procurement process.
Step Two – Acquire Permission to Purchase Alcohol
Vermont mandates that any individual or entity wishing to purchase food grade ethanol in Vermont must obtain a permit before commencing the acquisition. This permit serves as a crucial document, ensuring that your procurement process aligns with Vermont's stringent regulations.
To facilitate this process, you should reach out to the Vermont Department of Liquor Control and begin the permit application. Remember, compliance is not just a formality; it's a legal requirement that guarantees the responsible use and handling of food-grade ethanol in the state.
Step Three – Email Your Approved Permit
Once your permit is granted, take a moment to celebrate this important milestone in your procurement journey. But the work is not over just yet. To expedite the shipping process, Simple Solvents requires a copy of your approved permit to be sent to [email protected]. This step ensures that your order can move forward without unnecessary delays or complications.
Step Four – Visit the Simple Solvents Online Storefront
With your permit in hand, it's time to explore your options. Simple Solvents, your trusted partner in the world of food-grade ethanol, offers a user-friendly and comprehensive online storefront at www.SimpleSolvents.com. Here, you can browse and select from an extensive range of food-grade ethanol products tailored to meet your specific requirements.
Whether you need food-grade ethanol for laboratory experiments, industrial processes, or any other application, our online platform makes it easy to find the right solution for your needs. Simple Solvents takes pride in ensuring that our customers have access to high-quality products and a straightforward procurement experience.
Step Five – Plan for Delivery
Your selected food grade ethanol products are on their way to Vermont, and they require a responsible hand to receive them. Orders shipped to Vermont are subject to a crucial requirement: an adult signature is mandatory upon delivery. To ensure a smooth and successful receipt of your order, make sure that someone is available to accept the package when it arrives.
Step Six – Return Your Permit
When your package arrives, it will include a permit that needs your attention. This permit serves as a legal document and should be promptly signed and sent back to the Vermont Department of Liquor Control. By doing so, you'll complete the necessary legal processes, ensuring that your procurement is in full compliance with Vermont state laws.
Shipping Time to Vermont
To improve the efficiency of our service and to cater to the needs of our Vermont customers, we have adjusted our shipping process. Instead of shipping from a distillery in Maine, our products now originate from our centralized warehouse in Colorado. This modification results in faster and more reliable delivery times.
Generally, orders shipped via FedEx Ground to Vermont will take 1-3 business days to reach their destination, depending on the specific location of the delivery. Please note that FedEx will provide you with tracking updates, including an update on the day before your expected delivery. These notifications will help you stay informed and anticipate the arrival of your order.
Regulations in Vermont
Vermont's state laws are stringent when it comes to purchases of food grade ethanol in Vermont. A permit is not just a formality but a legal requirement to purchase this substance legally. The Vermont Department of Liquor Control diligently oversees these regulations to ensure that food-grade ethanol is acquired and used responsibly.
By diligently following these comprehensive steps and adhering to Vermont's rules and regulations, you can legally and responsibly obtain food grade ethanol in Vermont. Simple Solvents is committed to making this process as straightforward and efficient as possible while ensuring full compliance with the law.
If you require any additional assistance or have specific questions about purchasing food grade ethanol in Vermont, don't hesitate to reach out to us at SimpleSolvents.com. Our team is dedicated to providing you with the support and information you need to navigate the procurement process with confidence and ease. We take pride in offering an efficient and compliant experience to fulfill your food-grade ethanol needs in Vermont.