Navigating the Complexity of Food Grade Ethanol in Georgia
In the realm of acquiring food-grade ethanol, Georgia stands as a state that eases the process for its residents. State laws permit food grade ethanol in Georgia purchases without the need for additional permits or licenses. With straightforward procedures and reliable FedEx Ground delivery, ordering food-grade ethanol has become accessible and hassle-free across the state. In this comprehensive guide, we'll explore the nuances of purchasing food grade ethanol in Georgia and shed light on the complexities that buyers often face when seeking this essential industrial alcohol. The food grade alcohol market changes daily.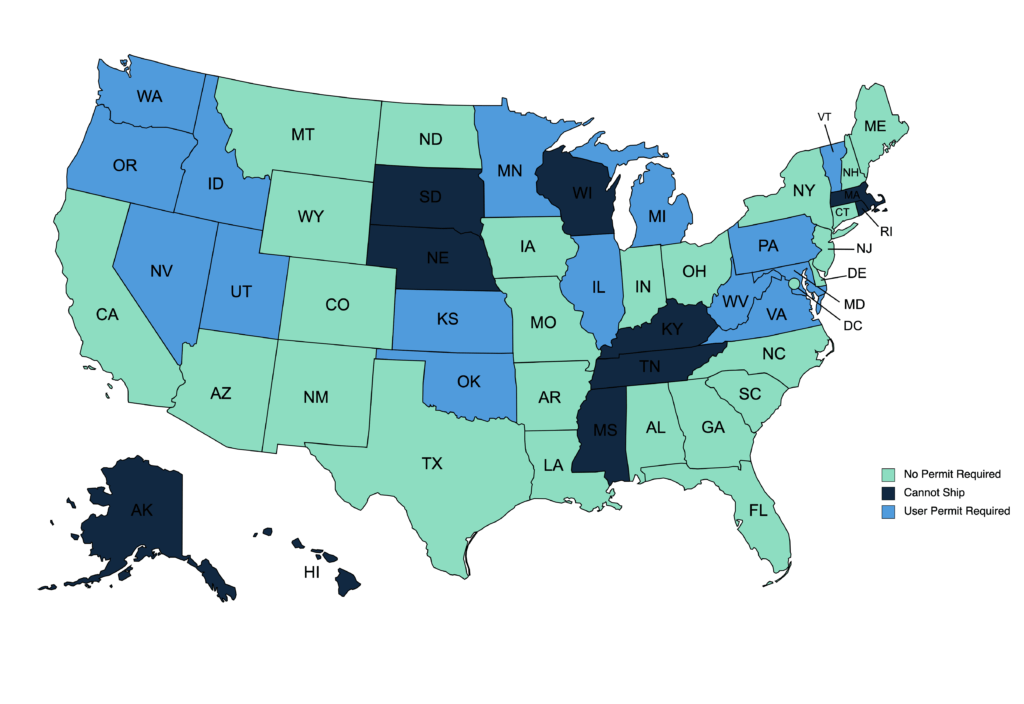 At Simple Solvents, we are dedicated to making your ethanol procurement as smooth as possible. We offer a wide range of food grade ethanol in Georgia products through our online store, SimpleSolvents.com, with immediate fulfillment and orders typically shipping within 1-3 days. Additionally, we provide step-by-step assistance to ensure that you are well-informed about the process.
Steps to Purchase Food Grade Ethanol in Georgia:
Acquaint Yourself With Georgia's Rules and Exemptions:
When venturing into the food grade ethanol in Georgia, it's crucial to familiarize yourself with the state's regulations and exemptions related to food-grade ethanol production and distribution. Georgia's approach to food-grade ethanol is favorable, with a focus on promoting accessibility and safety.
Visit SimpleSolvents.com:
Explore our extensive selection of food grade ethanol by visiting SimpleSolvents.com's online store. With immediate fulfillment available, you can browse our inventory, select the products that meet your requirements, and place your order. We take pride in our efficient order processing, with shipments typically going out within 1-3 days of order placement.
Provide Payment and Shipping Information:
After you've chosen the food-grade ethanol products you need, proceed to the checkout process on our website. Here, you can enter your payment information and confirm your shipping address. We prioritize transparency and customer convenience, which is why we provide tracking updates, allowing you to stay informed about the progress of your order from the moment it's placed until it's delivered.
Plan for Delivery:
When ordering food grade ethanol in Georgia, keep in mind that the state requires an adult signature upon receiving the shipment. It's important to ensure that someone will be available to accept and sign for your package when it arrives. This precaution is in place to maintain the safety and integrity of the delivery process.
Shipping Time to Georgia:
In recent times, FedEx Ground has adjusted its transit time for shipments from our warehouse in Colorado to Georgia. The shipping duration now typically ranges from 2 to 4 business days, depending on your specific location within Georgia. It's worth noting that this count of business days includes Saturdays and Sundays, making it more convenient for buyers. As is our standard practice, FedEx will provide tracking updates, including one scheduled for the day prior to the expected delivery date. This ensures you have real-time information on the whereabouts of your shipment.
Permits in Georgia:
Georgia distinguishes itself by not requiring permits or licenses to purchase and ship food-grade ethanol for extractions and processing purposes. The Georgia Department of Revenue Alcohol and Tobacco division does not regulate non-beverage uses of ethanol. This means that individuals and businesses in Georgia can confidently buy and use food-grade ethanol without any unnecessary bureaucratic red tape. It's a testament to Georgia's commitment to promoting responsible and safe use of industrial alcohol in non-beverage applications. Additional information can be found on the TTB's website.
With these simple steps, residents can legally and confidently obtain food grade ethanol in Georgia for their specific requirements. If you have any questions or require additional assistance, our team at SimpleSolvents.com is here to help. Our friendly customer support representatives are standing by to address any inquiries or concerns you may have. We stay competitive in Georgia and Southwest Georgia ethanol markets for food grade ethanol proof gallon.
Uses of Food Grade Ethanol in Georgia
In another blog, we'll delve deeper into regulations surrounding food grade ethanol in Georgia and explore the various applications and industries that rely on this versatile industrial alcohol. Whether you're involved in extraction processes or other non-beverage applications, our goal is to empower you with the knowledge and resources needed to navigate the world of food-grade ethanol with confidence.