Navigating Idaho's Regulations: A Comprehensive Guide to Buying Food Grade Ethanol in Idaho
Acquiring food grade ethanol in Idaho, a state known for its picturesque landscapes and thriving industries, is a process governed by a unique set of rules and regulations. The journey begins with the necessity of obtaining a permit or license, followed by the convenience of FedEx Ground to facilitate the shipping process. In this guide, we'll delve into the intricacies of purchasing food grade ethanol in Idaho, exploring the difficulties that often arise when buying online and how Simple Solvents can be your reliable solution.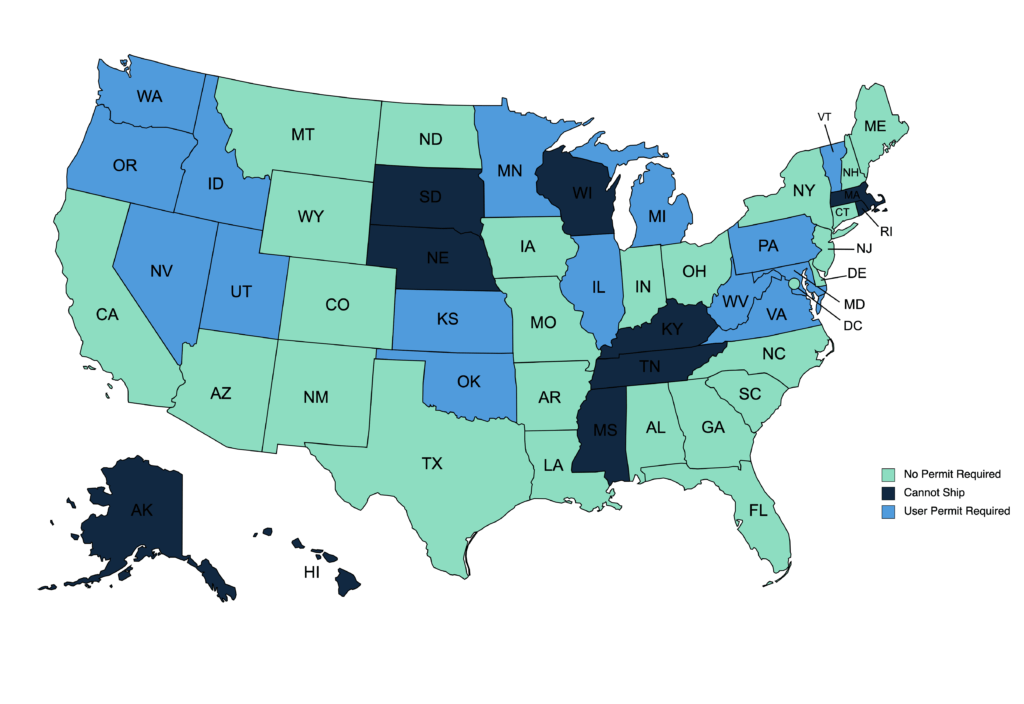 The Challenges of Buying Food Grade Ethanol in Idaho
Purchasing food grade ethanol in Idaho online presents several challenges, especially when navigating the labyrinth of state-specific rules and regulations. Idaho is no exception to this complexity, and buyers often find themselves facing these common hurdles:
Permit Requirements: Before making any purchase, understanding the permit or license requirements is crucial. In Idaho, obtaining the necessary permit to purchase high-proof ethyl alcohol is mandatory. This step alone can be a daunting task, as applicants must adhere to Idaho's specific rules and regulations.
Compliance with Regulations: Idaho's food-grade ethanol is subject to regulation by the Idaho State Liquor Division. Ensuring compliance with these regulations can be a challenging task, as missteps may result in legal complications.
Shipping Logistics: Once the permit is secured, the logistical aspects of acquiring food-grade ethanol come into play. Coordinating the shipment to your location in Idaho, ensuring it arrives safely, and arranging for an adult signature upon delivery can be intricate and time-consuming.
Despite these challenges, Idahoans can now rely on a simplified solution offered by Simple Solvents. With a comprehensive understanding of Idaho's regulations and the right resources at your disposal, you can confidently and legally obtain food-grade ethanol for your unique requirements. Let's walk you through the process step by step.
Steps to Purchase Food Grade Ethanol in Idaho:
Step 1 – Know the Regulations:
Before you embark on your purchase journey, it's essential to gain an in-depth knowledge of Idaho's High Proof Ethyl Alcohol Rules and Regulations. Understanding the legal framework will empower you to navigate the process more effectively.
Step 2 – Apply for Permit:
In Idaho, obtaining a Permit to Purchase high-proof ethyl alcohol or food grade ethanol in Idaho State Liquor Division is a mandatory step. The permit application process can be a complex one, and ensuring all requirements are met is critical.
Step 3 – Approval and Submission:
Once your permit application is approved, you will receive this crucial document. To streamline your ethanol purchase with Simple Solvents, please email a PDF copy of your permit to [email protected].
Step 4 – Explore SimpleSolvents.com:
With your permit in hand, it's time to explore the wide selection of food grade ethanol products available at SimpleSolvents.com. Our online storefront is designed to make your selection and ordering process as convenient as possible. Orders typically arrive within 1-3 business days after placement.
Step 5 – Delivery Arrangements:
Please be aware that deliveries to Idaho require an adult signature upon receipt. Plan accordingly to ensure that someone is available to accept the delivery of your ethanol shipment. Refer to our guidelines for more information on receiving the shipment safely and compliantly.
Navigating Idaho's Regulations:
Food-grade ethanol in Idaho is subject to regulation by the Idaho State Liquor Division, and they can be contacted at 1349 E. Beechcraft Court in Boise or reached by phone at (208) 884-6706. For email inquiries, their address is [email protected], and you can visit their official website at Idaho State Liquor Division.
For those seeking more detailed information about Food Grade Ethanol sales in Idaho, reference Title 23 statutes, particularly sections 23-512 (Sales for Medical or Scientific Purposes) and 23-513 (Term of Permits or Licenses). These statutes can be accessed at Idaho Legislature – Title 23.
Shipping Time to Idaho:
Our transit time for your ethanol order via FedEx Ground has been adjusted for your convenience. Your shipment should now reach Idaho from our warehouse in Colorado within approximately 5 business days. Keep in mind that this count may include Saturdays and Sundays, depending on your location. FedEx will provide tracking updates, including one on the day before the expected delivery.
With these clear steps and the required permit, Idahoans can confidently and legally obtain food grade ethanol in Idaho for their requirements. Should further assistance or questions arise, don't hesitate to reach out – simply visit SimpleSolvents.com. We're here to simplify the process and ensure that you can access high-quality food-grade ethanol without the hassle, complying with Idaho's regulations every step of the way.